Home Page
---
See below for details on the company's destruction.
---
ComPol, Inc. specializes in the manufacture of FM-SCA Receivers. In addition, we manufacture receivers for SAP, TVPRO, RDS/RBDS, and EAS applications. Our receiver designs cover frequencies up to 800 MHz for subcarrier, wideband and narrowband applications.

Electronic Mail
---

ComPol was a wonderful little company and its destruction was a senseless tragedy. We primarily made special equipment that gave tens of thousands of blind people access to newspapers and magazines. We also made equipment for radio and television stations all over the world. We even made equipment for our military and the military of Israel. My employees had been with my company for over thirteen years. They liked their jobs and we were like a family. We were proud of our company.
In early 2002, a bank employee for a major bank appears to have used my loan application in a mortgage scam. The loan was to cover losses incurred during the last quarter of 2001. As a result, I lost nearly two months of production and tens of thousands of dollars. The bank apologized for the inconvenience, but refused to help with my losses. The government, including the Office of the Comptroller of the Currency, the Attorney General, the FTC, the FBI and the local police, refused to investigate. Private attorneys told me that banks are too big to sue and that I had to put it behind me. So, in early 2003, and with great regret, I sold my house to cover the losses.

A few weeks later, I received a call from the IRS about back taxes. Because of the legal problems, I had fallen behind on my withholding taxes, and although I was making regular payments, it was just not enough. The agent was extremely hostile to me. She called me a liar and a tax cheat. I showed her a copy of the complaint that I had filed with the FBI and a contract that proved I was capable of paying the taxes within a month. She declared that the documents were forgeries and demanded payment within two weeks.

I contacted my banker for help. Since the matter of the false loan application had not been resolved, she declined my request for a loan. She referred me to a non-traditional lender. His advice was to consult an attorney and he gave me an attorney's business card. To my surprise, the name was familiar; it was a cousin whom I had never met.

The following day, I visited his office in Boston. We discussed our family trees back to our common ancestors. He told me that I had no legal recourse against the bank, without even looking at the documents. He said that getting an extra week or two from the IRS would be no problem. He had me sign an IRS form granting him power-of-attorney. His associate started immediately to negotiate with the IRS.

The next week, I was contacted by two potential clients who wanted me to design some systems for them. One system involved automobile navigation and the other was a system needed by Homeland Security. I was also contacted by a company who wanted to represent ComPol in South America, where our products were in demand. It seemed to me that recovery was only a few months away.

Then, I received a payment from one of my customers that was almost exactly the amount demanded by the IRS. I notified my attorney and requested that he tell the IRS that payment would be made just as soon as the check cleared. When the check cleared, my attorney told me that the IRS was refusing payment of the back taxes. The agent wanted to punish me. My attorney told me that he needed to be paid $2000 for further work with the IRS. He told me not to hold the funds, but to pay some of my bills, including payroll.

A week later, my attorney and his associate came to my office and said that they had received a seizure notice from the IRS. They said that the only way to stop the seizure was to file for Chapter 11 bankruptcy. They had no time to look at the company books or business plan. They also had no time to discuss with me the details of Chapter 11 bankruptcy or even to see if there was a viable exit strategy. They told me that the papers had to be signed immediately so that they could get to the courthouse in Manchester by 5:00 PM. I made it a point of advising the attorneys that most of the creditors were either in my name or cosigned by me and they said that it was not a problem.

The major problem facing ComPol was a lack of working capital and poorly structured debt. The company debt was not large and, with the exception of taxes, we were not seriously in arrears with any of our creditors. We had a large backlog of orders and more were coming in each day. The design contracts generated large profits, but were time consuming. The gross profit from the contract that we were completing actually equaled one third of the entire company debt. There was no business reason for filing for bankruptcy. It was done entirely to avoid IRS seizure.
The papers filed with the bankruptcy court grossly understated the value of the company. The most significant assets were not even listed. It made it appear that the company was unable to pay its creditors. Since I was not on the distribution list, I was not aware of many of the documents that were filed. I trusted the bankruptcy attorney and did not even know what questions to ask.

Once in bankruptcy, I had to hire a member of the law firm to consult me on a daily basis on how to operate within the Chapter 11 laws. The cost of the consultant drained the company of virtually every cent that we received. Because of the bankruptcy, my suppliers stopped shipping and the banks cut off my credit. I could not take design contracts because most of my time and energy was being consumed by the bankruptcy. Temporarily, I had to close the company. The attorneys recommended bringing in an investor. He was prepared to take half the company in exchange for paying the legal bills. I rejected his offer.

The consultant went searching for funding. The business plan that he prepared emphasized the work for the blind which had a very low profit margin. The plan minimized the commercial work, which was very profitable, but was more speculative. Nobody was impressed by the business plan, so the consultant became more imaginative. It took him three months to negotiate a loan using my elderly parents' home as collateral. Not only did I find it unacceptable to burden my parents with a new mortgage, but the amount of the loan was insufficient to emerge from bankruptcy and to revive the company.

I had the option of converting from Chapter 11 to Chapter 7, but I would have been prohibited from selling my knowledge and expertise, since this was a company asset. The solution was to sell the building that housed the company. With the deposit, I reopened the company just long enough to fill the prepaid orders placed by some blind people earlier in the year. The day after the last order was shipped, the new owner took possession of the property. My employees' final task was to load the entire company into a storage trailer and then the company closed forever.

The balance of the proceeds from the sale of the building went to the attorney. He had received a total of nearly $87,000. Of that amount, $18,000 purportedly went to the creditors and $69,000 went for legal fees. Many of the creditors were never paid and they have been relentlessly harassing me. The creditors are not satisfied that I have lost everything that I have built in the last thirty years; they want everything that I have. I have not only received nasty letters and court summons from a number of attorneys, but threats to harm my 86 year old father. My attorney said that he is only responsible for defending the company against its creditors. He said that he is not responsible for defending me against the company creditors. The police will not take action against those attorneys who threatened my elderly parents for fear of being sued.

The sense of helplessness and anger peaked during the spring of 2005. It was so much that my health completely collapsed and I almost died. After three months, I made a recovery, but the stress of all the threats and harassment is preventing me from full recovery.

I was hoping that I could restart the company, but my credit, which was nearly perfect prior to these problems, has been so badly damaged that I will not be able to get a loan or credit card until I am 70 years old. I was contacted by a man in Spain who wanted to build a company around my technology and manufacture my commercial products in Spain. We corresponded and exchanged ideas for several months. In August 2005, he said that the papers for the new corporation were being prepared. It was their intention to launch an "Initial Public Offering" to raise the capital. His investors backed out because they believed that I did not have title to the intellectual property that was once part of my company because of the many lawsuits being filed against me.
It is unlikely that those products that I worked so hard to develop will ever go into production again. Some of those products were put onto this website and others were almost ready for posting when the company closed. These products could have helped so many people and now they are gathering dust.

During the last two years, I have been working to rebuild the company, but it has not been easy. The harassment by the creditors' attorneys is so emotionally draining that I can no longer concentrate and I make many mistakes. The situation seems hopeless.
---
During the last few years, I have reflected on the thirty years that I put into the business, as well as my entire life. I have thought about my mistakes and my achievements. During the last thirty years, I have made many mistakes, but the only irreversible mistakes have been in trusting the legal system. If, thirty years ago, I had found a competent, honest attorney, who cared about me and my business, my business would have easily overcome the business mistakes that I had made. It would have been very successful and helped many people.

I have achieved a lot during the last thirty years. I developed an SCA design that has become the world standard. I have helped tens of thousands of blind people. I have helped churches of all faiths to spread the word of God to their various flocks. I have developed and built equipment for emergencies that have probably saved peoples' lives. I have built equipment for the military that has made our nation stronger.

What could I have done if I had not spent the last fifteen years fighting various legal battles and corrupt court officers? I do not know! Maybe I could have done more to help blind people, or other disabled people. Maybe I could have designed new equipment for emergencies and saved many lives. Maybe I could have done something that I cannot even imagine today. It might have been something wonderful that would have helped millions of people. Or maybe I would have done no more than I have done under the current circumstances. What could I have done? I do not know! Neither does anybody else and nobody ever will. For all sad words of tongue or pen, The saddest are these: "It might have been!" JOHN GREENLEAF WHITTIER
What about the future? It looks like I will spend the rest of my life trying to recover from this mess. If I do recover, maybe I can do something that will help to improve the lives of many people. Who can say?

If I could go back thirty years, would I start this business again? No! But I enjoyed every aspect of running this business except the legal problems. I enjoyed taking a concept, an idea that existed only in my mind, and turning it into a working unit. I enjoyed figuring out how to mass-produce that product. I enjoyed purchasing the parts and seeing those individual parts become the finished product. I enjoyed the challenge of finding customers and convincing them to buy my product. Most of all, I enjoyed hearing from customers whose lives were improved because I worked to bring my concept into their lives. I have received several letters that were almost identical: "My father had your radio by his bedside when he died. It brought him so much comfort during his final months. Thank you."

In order to prosper, or even survive in business, you have to know how to beat the system. It is not enough to work hard and to make the right decisions. You need to know whom to bribe and how to break the law with impunity. The honest man cannot succeed. This will be the downfall of our country and our society.


Frank Karkota
President (formerly)
ComPol, Inc.
---
Update: September 2009
The depth of this case is far greater than it originally appeared.
When I started being sued by the various creditors, I tried without success to find an attorney to help me. Then I started my own investigation. First, I contacted the IRS and filed a complaint against the agent who supposedly refused my payment. The treasury investigator found that the agent never refused my payment. I contacted the Office of the US Trustee, which represents the public interest in bankruptcies. The response was hostile, defensive and worthless. I visited the FBI office in Boston and talked to an agent. He told me that the FBI does not have jurisdiction to investigate bankruptcy fraud and related crimes. He told me that the only agency that could investigate was the Massachusetts Board of Bar Overseers. In my opinion, the Massachusetts Board of Bar Overseers is pure evil. They cover-up crimes committed by attorneys and essentially sanction attorneys to commit crimes. The only attorneys that are disciplined are those who are convicted of defrauding the public or expose the evil of the Massachusetts Board of Bar Overseers.
When I filed my complaint against the attorney with the Massachusetts Board of Bar Overseers, I submitted to them a sworn statement from the bankruptcy, by the bankruptcy attorney, that showed that the creditors were paid. One of those creditors was General Electric Corporation. I also presented a letter from an attorney representing GE claiming that payment had never been received. After a nine month investigation the Massachusetts Board of Bar Overseers ruled that the attorney had done nothing wrong. When I challenged their investigation, it was abruptly closed. By my understanding of the law, the attorney's conduct constituted tax fraud, bank fraud, bankruptcy fraud, embezzlement, perjury and wire fraud. Once the Massachusetts Board of Bar Overseers exonerated the attorney, no law enforcement or prosecutorial agency would even talk to me.
Late in 2007, GE filed a lawsuit against me for the funds that they never received. I filed a request for documents with the Massachusetts Board of Bar Overseers and sited the specific Massachusetts statute that authorized me to make the request. The documents that I requested were all correspondence regarding the payment made to GE. The Massachusetts Board of Bar Overseers refused my request, even though my request was within the law. I made a motion to the judge to compel discovery and the judge refused even to consider my motion. I submitted requests for interrogatory from GE that could have revealed the disposition of the missing funds and their correspondence with the Massachusetts Board of Bar Overseers. GE refused to answer my questions, even though GE was required by law to comply with my request.
I submitted to the judge the sworn statement, submitted to the bankruptcy court by the bankruptcy attorney, claiming that payment had been made, and the letter from the Massachusetts Board of Bar Overseers claiming that the bankruptcy attorney had done no wrong. The attorney for GE submitted a sworn statement that payment had never been received. Since the two documents were in contradiction, one of them was a perjury. Since the document from the bankruptcy attorney was submitted to a federal court and the document from GE was sent by interstate courier, either way federal laws were violated.
Under federal law, the state judge was required to turn this matter over to a federal judge, but instead ruled that the bankruptcy was improper and ordered me to repay the creditor. Upon receipt of his ruling, I wrote to the US Attorney in Boston and the US Trustee in Washington. Shortly thereafter, the judge ordered my ten-year-old jeep to be confiscated.
Something strange happened next. Instead of immediately seizing the jeep, the sheriff waited until January. My house is located in an isolated area which is often inaccessible by anything but four-wheel drive and the nighttime temperatures often drop below zero. The jeep is a necessity. On a certain morning, every week, I go to the home of my elderly (80+) parents to bring the trash to the road and then, often, I bring my mother to the grocery store. One cold morning, in January, I had my jeep parked behind my parents' home. The sheriff drove behind my parents' house as I was about to bring my mother to the store. They were like Nazi storm troopers and demanded my jeep. I have no doubt that they would have used lethal force had I resisted.
Why did they wait until January? How did they know that I would be at my parents' home on that day and time? When the judge issued the order, did he know that I had filed the complaint with federal authorities? Why did the judge rule that the bankruptcy was illegal even though the Massachusetts Board of Bar Overseers claimed that the debt had been paid and discharged? Why did the Massachusetts Board of Bar Overseers refuse my legal request for documents pertaining to their investigation? Why was the matter not turned over to a federal judge by the state judge? Why did the FBI/US Attorney refuse to investigate what was clearly a federal matter? Why did the Massachusetts Attorney General refuse to investigate, even at the request of Senator Kennedy? Is it common practice to treat a crime victim in this manner?
It appears that this is more than just a dishonest bankruptcy attorney. The US Trustee and the bankruptcy judge should have seen something suspicious. The FBI should have investigated the matter because bankruptcy fraud falls under federal jurisdiction. The Massachusetts Board of Bar Overseers should have investigated the attorney and explained their decision, instead of abruptly closing the investigation when I challenged their conclusion. The district court judge should have followed federal law when he realized that this was, in fact, a federal criminal case. The deputy sheriff should have contacted the FBI when he realized that they were involved in witness tampering. The Massachusetts Attorney General should have investigated this matter instead of claiming that they are prohibited by state law from investigating corruption.
---
I have conducted investigations into this mess. I learned that a member of the Massachusetts Board of Bar Overseers works for the US Attorney, probably as an assistant US attorney. I also discovered that many assistant US Attorneys are under the jurisdiction of the Massachusetts Board of Bar Overseers. Furthermore, many assistant US Attorneys plan to practice law in Massachusetts at a future date. Prosecuting a member of the Massachusetts Board of Bar Overseers or a district court judge is professional suicide for an assistant US Attorney. There is an incestuous relationship between the US Attorney and the Massachusetts judiciary that allows the Massachusetts judiciary to do anything they want with impunity.
In my attempts to try to resolve this through the justice system, I wrote a letter to the DOJ Inspector General. I received a surprising letter from the US Department of Justice. Jay Macklin was provided with documents to prove that federal laws were violated by my attorney, the Massachusetts Board of Bar Overseers and a district court judge, including the charges against my attorney noted above, plus obstruction of justice, misprision of a felony and probably conspiracy. He responded by stating that when an attorney violates federal law, he has committed "professional misconduct" and that it is the responsibility of the state, where he is licensed, to investigate and prosecute him for those federal crimes. Since judges are attorneys, they apparently fall under the same policy.
On August 26, 2011, I called the FBI office in Lowell, MA and discussed the events with an agent. She told me that tax fraud, bank fraud, perjury, embezzlement, etc are civil offences and cannot be investigated by law enforcement agencies. She also said that there was nothing wrong with the investigation by the Massachusetts Board of Bar Overseers.
---
How much is a human life worth? I have gone to at least a dozen government agencies for help and over fifty attorneys. Nobody will help me. Some attorneys have told me, "You're not worth the trouble. Nobody cares and nobody will help you." Instead of resuming my career and doing the work that I love, I expect to spend the rest of my life trying to undo all the harm that has been done to me.

Often, in the news, I hear about the police and volunteers spending hundreds of hours and thousands of dollars searching for a person lost in the woods. I am lost in the legal system and nobody will lift a finger to help me. But the results will be the same.

I have spent my life in service to my country. When I was called to serve my country in the military, I did not want to go, but I did. Not only did I serve the one year in Vietnam as ordered, but I volunteered for another seven months. When I finished my service, I started a company that made equipment for the blind. I helped tens of thousands of blind people and I created jobs and I paid taxes. I do not regret any of my service to my country; I am proud of it. Along comes a bank embezzler, a very hateful IRS agent, and a dishonest lawyer; and not only have I lost everything that I have accomplished during my lifetime, but I have also lost my future. And I am not the only loser; all of the people whom I might have helped have also lost. Perhaps some people have even died because I was not there to make emergency equipment that might have saved lives.
During the years that followed the loss of my company and the relentless harassment of the unpaid creditors, my emotional health deteriorated and I found myself falling into deeper and deeper depression. In November 2009, I decided to use the free personal website from my ISP to recover my self identity. I took photographs of the beauty of nature. Everything from tiny insects to giant boulders is on that site. I also published my first (and only) novel on that site. That site tells that I am more than just a victim, but a person who cherishes beauty. My novel is about honor and virtue. It shows what I value and who I am. If you would like to know who I am, please visit my site. Westford Wilderness If you would like to read some of my fiction, visit my site. My writing!
If you know of anybody who can help me, please have him contact me. Some of the documents that prove my statements are posted on the internet and I will give the URL to anybody who wishes to conduct an investigation.
There is just too much judicial corruption and government corruption in this country!
---
June 2012
For over nine years, I have tried to restart my career and my business, but the stress of the lawsuits and legal problems has been too much for me, and I am giving up. Giving up is not easy for me, but the future is hopeless. In a few months, I will be 65 years old.
My career brought me a great deal of pleasure. Using ones skills to help people is the most rewarding pursuit that a person can undertake. Creating a product, whether for one person or a thousand people, that advances technology is wonderful beyond description. The legal and financial mess created by the bankruptcy make it impossible for me to do anything but collect a miniscule Social Security. I cannot start a business or get a job. I had planned to keep working until I was no longer able to stand. I can no longer think clearly and I have lost my passion, not only for technology, but for life in general. I get some pleasure from taking photographs and writing stories, but without the ability to share it, there is no thrill. There is no purpose.
A few days ago, I sent a form back to the Social Security Administration regarding my health insurance. I have decided to opt out of the insurance because it is too expensive. If I become ill, then I will not seek medical aid. At my age, it will not be long before something breaks. Except for a few months after the bankruptcy, I have never been ill, so the odds are now against me.
I have done so much good before my career was cut short by the dishonest lawyer. I helped thousands of blind people and I may have saved lives with the equipment that I designed for emergencies. I do not know what I could have accomplished had I not been victimized by dishonest lawyers. Now, my future consists of threats and harassment by a collection of dishonest bank lawyers who are trying to collect the money stolen by other dishonest lawyers.
The real enemy is the Massachusetts Board of Bar Overseers. They are evil. They tell lawyers that they can steal from their clients and the Massachusetts Board of Bar Overseers will protect them. I wish that they could know the pain and suffering caused to countless people by their nefarious immorality. I wish that they could face the families of people who have died because I was not there to make life-saving equipment.
If the earth opened up and swallowed every member, past and present, of this evil agency, the world would be a far better place. They, like the lawyers they protect, are parasites who thrive on the suffering of others and go about their lives oblivious to the harm that they have done.
October 2012
The lawyers who represent Chase Bank and GE Capital Corporation are trying to extort money from my elderly (87 years) mother. I do not know how these lawyers live with themselves. I have posted documents to support my charges and will supply the link upon request.
---
February 2015
In early 2013, I managed to find a lawyer to take the case. My main objective is to clear my name so that I can resume my career and life. He has been trying to get the credit agencies to investigate the cases. I am not sure that they can vacate the judgments against me and get the lawyers to leave me alone. I also asked him to get the Massachusetts Board of Bar Overseers to reinvestigate the matter. He waited a full year so that all of the statues of limitation would expire and then asked for a reinvestigation. The Massachusetts Board of Bar Overseers admitted that they had never investigated the case and stated that because the statute of limitation had expired, there was no point in reopening the case.
I am still receiving harassing and threatening letters from former creditors of the bankruptcy. I expect that it will continue for the rest of my life. The statute of limitation for being a criminal is six years. There is no statute of limitation for being a victim!
---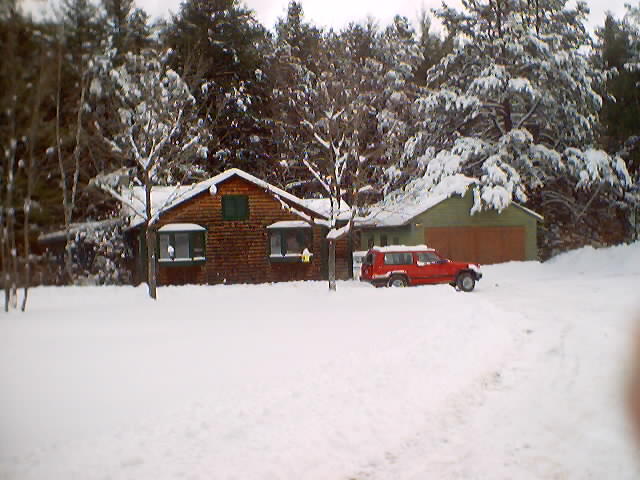 ComPol's Mason, New Hampshire facility. Not very fancy, but very functional. The new owner decided to tear it down and build a couple of houses.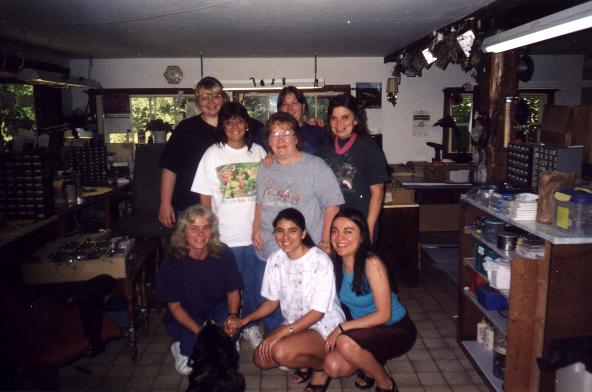 My employees.....My family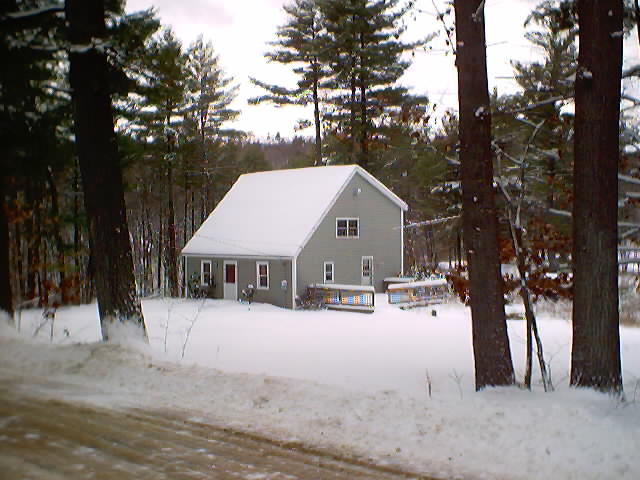 My cozy little house. Now occupied by strangers!
ComPol, Inc. today. The work of a lifetime reduced to the contents of a storage trailer.